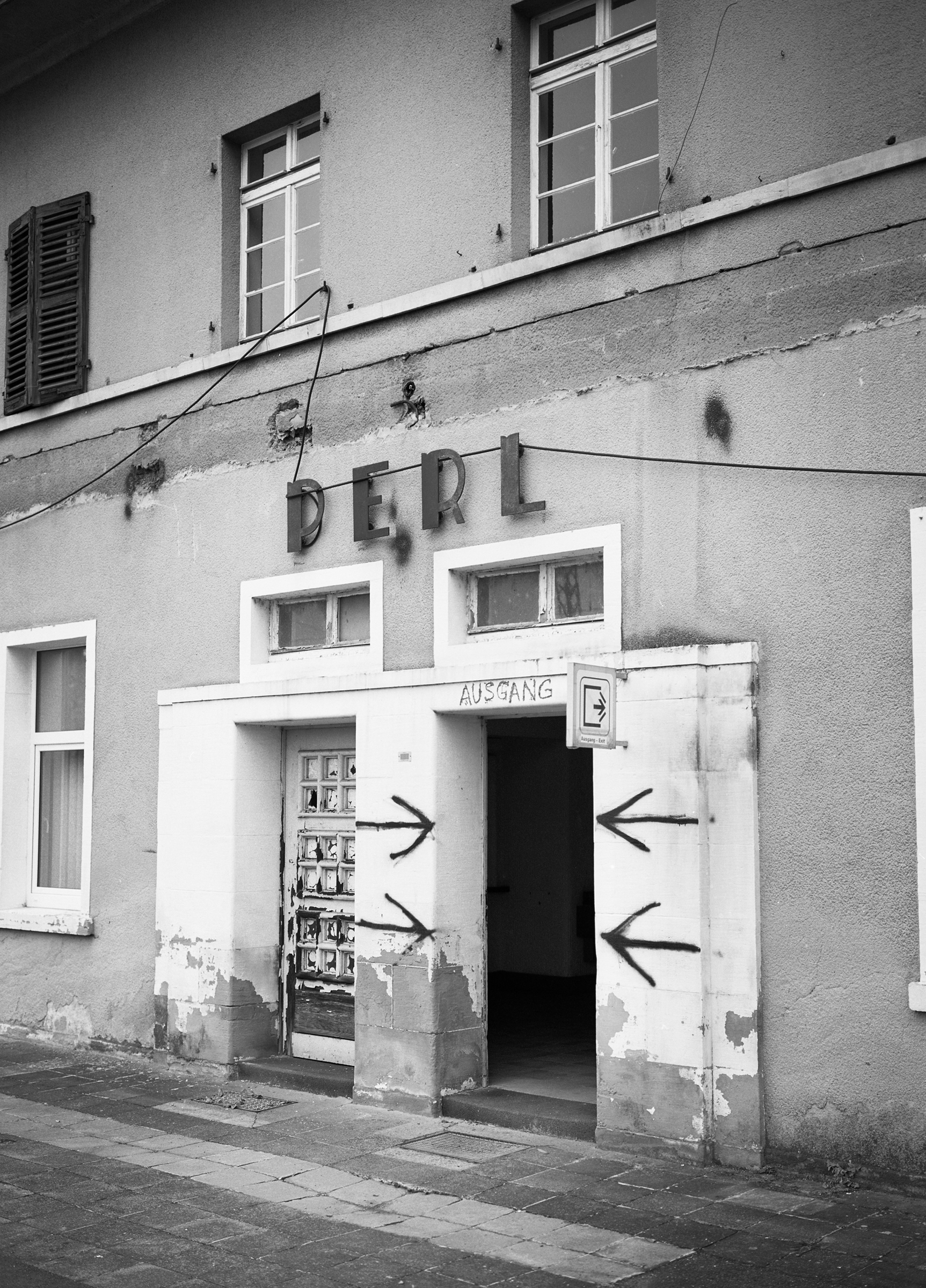 He decided that night that he would take the train from Leipzig to Ludvigslust. He wanted to say goodbye to me. My mother was the type to keep everything low profile, you know? Very silent. The situation between them was very difficult and that night she said I am not going with you to the station. So I went there. I was on my bike, I had this green bike, and he was walking next to me and it was about half an hour walk to home and we had a little talk. I mean he couldn't stay long, it was just sort of an hour or so because he had to catch the last train back, and so then at some point before the station on the way back we stopped on the street and he said I have a present for you and he brought out this little box with this golden necklace and he said I bought this for you and said it was very special and expensive and I was so flabbergasted, I was thinking what am I going to do with this? By that time I had realised that this was it and that I probably wouldn't see him again and then he gives me this necklace? I hated gold. I loved silver and he gave me a gold necklace. Only years later I could appreciate that he was trying to show his affection, to leave me something basically, but at that time I was a teenager. I had hardly seen my father between being three and the year before he left because he wasn't really interested in us, I had just got to know him and I was like... I'm not going to see you anymore and you give me a necklace? And then it was all very hectic and he had to leave and get the train and I was with this necklace and I remember all the years I took the necklace in the box I never took it out I just put it in the cupboard and I think I looked at it once again later on. But I hated that necklace. I don't have it anymore, I don't even know what happened to it. For me it was a symbol, first of all, of not understanding each other and second him really never understanding, you know? That he was sort of happy. He could leave. For him that was a happy ending. He could leave. We couldn't.
And rattling on the roof I must have heard the sound of rain

13 Rue du Gouvernment / Chareloi, Belgium / Gelatin silver print
Katie McCauley (with family) / Voting No / Kingussie
In 1981 and 1982, photographer Paul Graham travelled up and down the A1, the longest road in the UK, documenting his journey through the heart of Britain with the series A1, The Great North Road. London-based photographer Michael Thomas Jones takes his cues from Graham with the A9 project, which sees him traverse the longest motorway in Scotland to document how people intend to vote in today's referendum on independence. As Britain waits to see how Scotland votes, Jones displays a nation of Scots poised to make one of the biggest decisions in its history. - Dazed and Confused
Peter Smith. Ineligible to vote. The Wallace Monument, Stirling
The parish of St. Giles, with its nests of close and narrow alleys and courts inhabited by the lowest class of Irish costermongers, has passed into a byword as the synonym of filth and squalor. They are a noisy and riotous lot, fond of street brawls, equally "fat, ragged and saucy," and the courts abound in pedlars, fish-women, newscriers, and corn-cutters." — Henry Mayhew. A Visit to the Rookery of St Giles and its Neighbourhood. 1860

St Giles in the Fields from The Angel Pub. London, England.

---
Modernista - '... is an exhibition that seeks to contextualise the late 19th century buildings of Gaudi and his fellow 'modernista' architects as being more than just bricks and mortar. Gaudi's work, in particular, has been the subject of extensive photographic surveys in the past but almost all have sought to emphasise the defined architectural merit of his work. By contrast, Michael Thomas Jones has viewed some of Barcelona's most significant architectural works in terms of 'people and place', looking beyond the well-established 'coffee-table monographs' and 'picture postcard views'. He has engaged some of the unsung individuals who work or live within these architectural landmarks. Additionally, he has captured the way in which many of these building's now sit somewhat incongruously with their near neighbours, as the city has grown and developed; whilst others have been adapted and modified to meet the changing landscape of the city and the needs of society today.' - Peter Trowles, Glasgow school of Art.
Sagrada Familia.
Barcelona, Spain.
Bellesguard (Casa Figueres).
Barcelona, Spain.
---
Orbit
- There is a kind of medieval sense to it of reaching up to the sky, building the impossible. A procession, if you like. It's a long winding spiral: a folly that aspires to go even above the clouds and has something mythic about it." - Anish Kapoor
Doran Walk.
London, UK.
Warton Road.
London, UK.
---
Cinematography for films in collaboration media and cultural institutions.
Grinling Gibbons.
The V&A. London
Joan Eardley.
A Sense of Place
.
The National Galleries of Scotland
.
Both films produced and directed by
Marissa Keating
.
See more video
here
---
Commissioned - Photographic content for leading cultural, media and commercial brands.

Thunderbike for Harley Davidson.
Hamminkeln, Germany.

See more commissioned photography
here
---


michael thomas jones / mtjtimes@gmail.com

︎ ︎